I've been working hard on inventory for my very own etsy store so keep your eyes out. The plan so far is June 3rd... let's see if I can make it!
Here is a close up of a necklace I made using my new favorite colors: gray and we'll call it
cantaloupe
. Check out some
more pictures on flickr
.
I've been obsessed with the color gray for a while. I've even started to paint the interior of our house with a color called "veil" from
CIL
..
More recently I've been obsessed with orangey and pinky-orangey colors starting with looking for possible bouquet flowers for my wedding.
But then I saw this at
J. Crew
And this necklace at
Anthropologie
.
Ahhh... so pretty.
And I just found out through
Frantz Art Glass blog
that CiM (creation is messy) came out with the new color Phoenix that looks rather reminiscent to the colors I used in my necklace.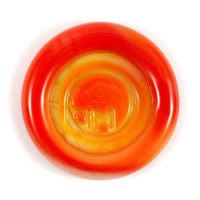 Awesome!
In other news the snow has totally melted (yea!) and we are back on the spring program. Hope your weekend is as beautiful as mine :)